Cast of Back to the Future movie reunite
This month marks the 30th anniversary of Robert Zemeckis' sci-fi comedy classic Back to the Future.
To mark the release of the Robert Zemeckis-directed film, which came out in July 1985, cast members Michael J Fox, Christopher Lloyd and Lea Thompson have been meeting fans in London Film and Comic Con.
Over the three-day show at Kensington Olympia, the cast will be discussing the making of the film and looking back on it 30 years later.
Clearly thrilled to be reunited with her co-stars Michael, 54; and Christopher, 76; Lea shared a candid shot of them together on her Instagram.
The 54-year-old actress captioned it: 'BFF #BTF30 #MichaelJFox #ChrisLloyd #LondonComicCon Such joy to see these guys.'
On Friday, the trio enjoyed a Q&A with fans and shared their memories of the movie and how it had changed their lives.
When one fan asked why Marty was such an iconic character, Michael replied: 'It's (Robert Zemeckis and producer Bob Gale's) fault. They created a really interesting character.
'What (Christopher) does in the movie that people don't really appreciate is that he lays all the exposition… All the stuff that's brilliant is also serving the story.
'With Marty, it's the same thing. It's his curiosity. He's just a cipher for the audience to take in what's happening and see their feelings reflected back. I don't know if I did that on my own, as I just fell into the rhythm that Bob and Bob created.
'So, Marty was just everyman. Marty was every kid. He was just supposed to represent everyone's reaction to what was happening.'
The first film was the most successful movie of the year when it was released, grossing $383million worldwide.

The action comedy starred Michael as Hill Valley teenager Marty, who is accidentally transported from 1985 to 1955 in his friend, scientist Doctor 'Doc' Emmett Brown's invention, a time machine made out of a converted DeLorean car.
Unwittingly, his then-teenage mother Lorraine Baines (Lea) ends up having a crush of Marty, and in the process ignores the romantic intentions of his future father George (Crispin Glover) – putting Marty's birth and whole existence in jeopardy.
Of course, not helping matters is the fact that the DeLorean's 'fuel', plutonium, isn't quite so readily available in '50s small-town America, meaning Marty and Doc have to work out a way how to get the teen back to 1985.
The film was so successful, two sequels Part II – set in a futuristic Hill Valley in 2015 – and Part III – set in the Old West in 1885 – were released in 1989 and 1990 respectively.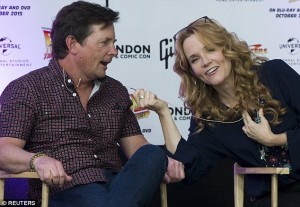 They participated in a panel, answering fan's questions about the film. Watch video below.
Comments